Changing Outlook View [Focused Inbox and Conversation View] (Webmail)
Enabling and disabling focused inbox

The focused view in Microsoft Outlook is a system that sorts your emails into 'Focused' and 'Other'. Focused will show any emails that are sent directly to you while other will show emails that have been sent to multiple users. Some users will prefer to use this view to see only their personal emails while others will prefer to see all emails in one place.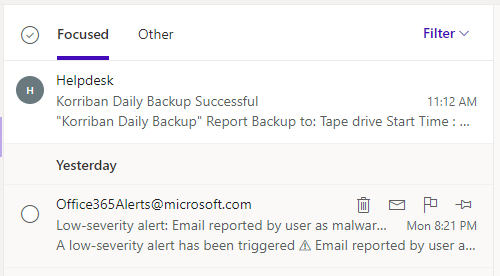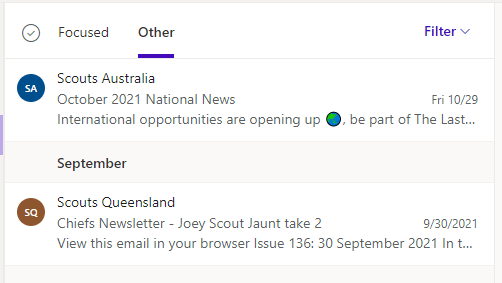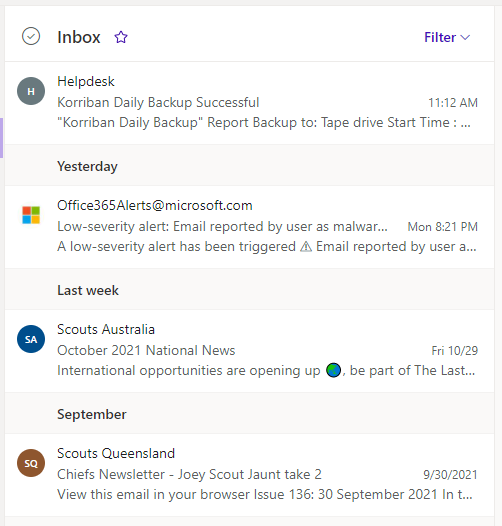 You can enable or disable this feature by first signing into your Office365 account then opening Outlook. Then select the settings in the top right hand corner. From there simply click on the toggle button next to "Focused Inbox", this will swap your inbox between the two views shown above.



Enabling and disabling conversation view
The Conversation View groups emails by replies, putting each response to the previous email into a single email. This can be useful for keeping track of longer chains of replies across emails.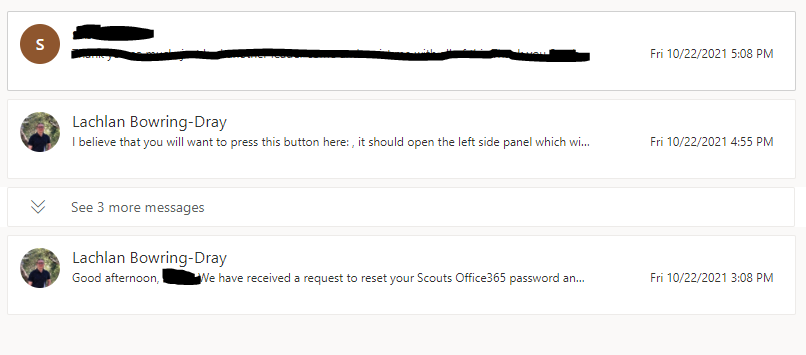 To enable or disable this feature open the settings menu in the top right corner of Outlook in your web browser then, under the 'Conversation view' heading, click 'Newest on top' or 'Newest on bottom' to enable the conversation view or click 'Off' to turn it off. Newest on top will place the most recent reply at the top of the email and newest on bottom will do the opposite.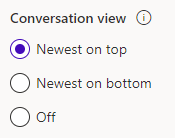 Related Articles

Accessing and using a shared mailbox via Outlook online (Webmail)

Setting up a shared mailbox in the Outlook Web Client Log into you Office 365 account and access Outlook. At the Outlook main screen, on the left hand side you should see Folders, right click on Folders this and select Add shared folder A popup ...

Opening a shared mailbox as a separate mailbox (webmail)

Opening a shared mailbox as a separate mailbox using Outlook on the Web (webmail) This guide will assist you in opening a shared mailbox in a separate window/tab so you can use it like a normal email account. You will need to log in with your Scout ...

Setting up your Scouts QLD email on your PC/Mac using Outlook

Please note you cannot connect to an Office 365 Email using Outlook 2007 or earlier due to one of the communication protocols being depreciated. Further information can be found here: ...

Changing the Picture for your Team

The below screenshots are from the Windows version of Teams and Android App menu layout may differ on the Mac/iOS versions of Teams. Changing your Team Picture on PC Click the more options icon (highlight below) and select Mange Team Move your cursor ...

Creating a Shared Calendar - Outlook Web Version

These steps are based using the Outlook Web (browser based) version To create a Calendar that can be shared, viewed and accessed by selected people follow the steps below: Open Outlook in your Browser - go to the Calendar (bottom left) On the ...